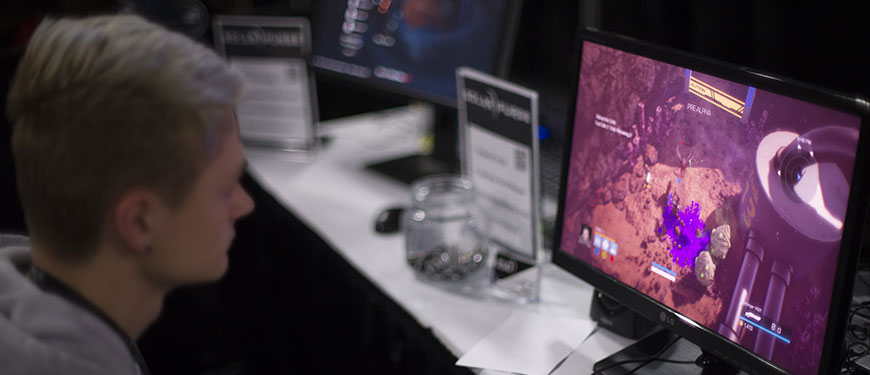 Progress Update
Hey everybody! It's been a little while since our last blog post, so I just wanted to let all of you know what's been going on. I thought it would be fun to write this post in a Q&A style to answer most of the questions we've been getting lately. There is a lot to cover, so let's get to it!
What is the team working on right now?
Currently we've been focusing on making content and fixing bugs. We had tons of feedback from PAX South and from several other events earlier this year. With that feedback, we go back to the drawing board and make changes to the levels, design, art and code. Some on these changes include swapping out the control scheme for one that's more familiar to first person / third person shooter fans and the loot system. Weapons now drop with different rarities / qualities ranging from standard to legendary and have stat increases based on those rarities.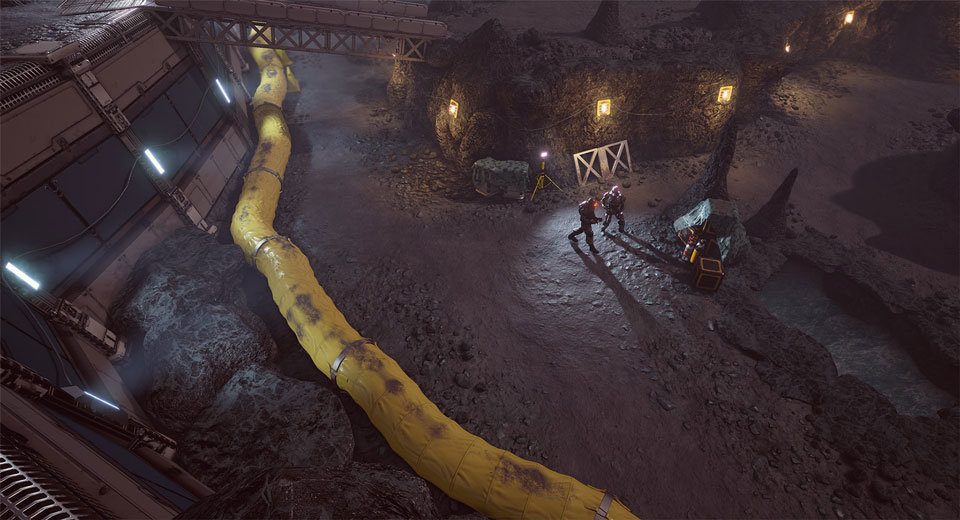 Progress is also being made on our game levels. Our flagship level, Titus, took us a long time to create, but we've refined our design process along the way. The new levels in production are going to be pretty awesome. As of right now, we have two campaign levels in the works (Jungle and Lava planets) with more coming later this summer and fall. We're planning on having four planets, plus several introductory and ending missions at launch. Each planet will have a main campaign mission and three or more side missions that you can complete at any point in the game. The procedurally generated levels have been put on the backburner for a little while as we figure out how we want those systems to work. There have been lots of really cool suggestions and work being done on those generated mission types and themes, and we can't wait to show you more of that soon. If you're planning on coming to Irving, TX for the Let's Play Expo in July, you can play our updated game mode Blitz… now with lava!
Good shooter games should have awesome enemies to fight and so should Solar Purge! On Titus (desert planet) we have 5 enemy types, plus the boss. Our goal is to have 5-7 different enemy types per planet (4), plus bosses, and the alien enemy faction. We take inspiration from lots of shooter games, but our primary ones for enemy design are Diablo, Doom and Halo. The design philosophy for these games provides not only unique art for the enemies, but also how they function. Right now we are looking to see what enemies will fit best with each planet, as well as the other enemies in that particular faction. The enemies on the Jungle planet do not fight the same way as the ones on Titus (desert) or the other two planets. We've also been experimenting with super enemies that have increased stats and different AI functionality. This creates for some interesting encounters, combat prioritization and hopefully… fun! We'll reveal more about the newer enemies as we get closer to finishing the planets currently in production. If you would like to see more about how levels are made, send us a message on social media, Discord or the contact page!
The main area of focus lately has been bug fixing. A "bug" is basically anything that causes an undesired result. Here's an example: If you walked up to the cave towards the end of Titus, pressed the button to detonate the blockage and nothing happened… that's a bug! We've been knocking out quite a few of these bugs lately and it definitely makes the gameplay experience so much better. Quoting Scott Rogers from the book "Level Up"… "Remove anything that is un-fun and all that should be left is fun!" We strive to make high quality content while still being indie, so this is becomes very important as the game grows in size and complexity.
Is the game coming to consoles?
While we unofficially mentioned that Solar Purge is coming to Xbox, we did officially mention that we're now part of the ID@Xbox program! The game works great with a controller and couch co-op mode, and we're excited to get the ball rolling with this new opportunity. We'll have some Xbox dev kits soon to start testing the game on. Our main two options for launch right now are to launch on Steam first and then Xbox, or release both simultaneously. The first option is more likely to happen, but we will see how things go. Stay tuned for more updates on this!
Some of you have also asking about PS4 and Switch ports. As of right now we don't have any plans to release on PS4, but we have been considering the possibility getting on Switch. It seems like a really good fit for the game and being able to play Solar Purge on the go would be awesome. This would, of course, be after both Steam and Xbox launches.

What upcoming events will Solar Purge be at?
This summer we'll be going to the Let's Play Expo in Irving, TX from July 27-29 and RTX in Austin the following weekend. In November we plan to be in Tulsa for the XPO Game Festival. Unfortunately we won't be at PAX West since there's a waiting list for indies. That conference is much larger than PAX East and South, so the focus there is more on the big AAA games. Maybe one day we'll get there. We will definitely be at PAX South next January since that has been one of our favorites so far. If you know of any other gaming events that we could attend please let us know!
When can I play Solar Purge?
Yeah… pretty much everybody has been asking this question! Well here's the good news. For everyone in the Texas area, we'll be at the Let's Play Expo in July and at RTX in August. We're almost through with the Steam process (which requires a bunch of legal forms), so if you're a streamer or YouTuber you should be able to play very soon. We have our fingers crossed for July. If you would be interested in helping us playtest and find bugs or would like to stream the game, please contact us at [email protected] or through our discord server www.discord.gg/solarpurge.
Will Solar Purge have online multiplayer?
Our focus has been on local couch co-op, but our programmers have started working on converting our game logic from Unreal Engine 4's Blueprints to C++. This means that the game will run much faster and lay the groundwork for online multiplayer. We would absolutely love to have this built in at launch, but this process takes time.
When is the game launching?
We're actually looking at a launch time frame near February 2019. Fall is approaching fast, and since we're hoping to launch on Xbox and preparing for online multiplayer our original fall time frame is too soon. We're also aiming for a release date that does not coincide with any AAA games scheduled to release in the fall or next spring. There is still a lot of work to be done, but this our goal. We'll keep everybody posted if this release date changes as well as the launch platforms.
I'm so glad you asked! You can help spread the word! The support we have received so far from our families, friends and fans has been amazing. We stream every week on Thursday and Saturday nights on YouTube, Mixer and Twitch. You can follow us on social media and come hang out with us at local events. Solar Purge won't happen without your support, so come help make it great!
Thanks so much for your support!
From all of us at Hitscan Games