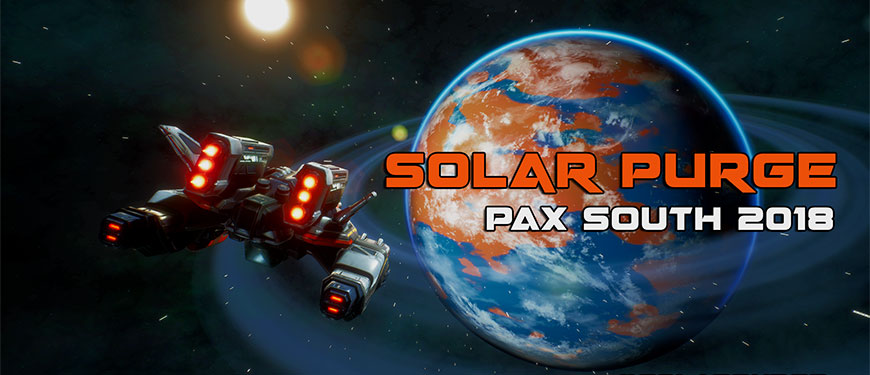 PAX South, Community and the Future of Solar Purge
It's been a little while since our last blog post, so I thought this would be a good time to show everyone what we've been working on recently. 2017 was a long year full of both hardships, success, loss and growth. 2018 is off to a fantastic start and we're looking forward to finally getting Solar Purge out the door and onto Steam this fall.
A couple of weeks ago we had the opportunity to attend PAX South in San Antonio, TX. Most of our team was both extremely excited and nervous at the same time. We were showing off our "baby" to the world for the second time at a much bigger venue. We had no idea what to expect.
PAX is by far one of the best gaming events you can go to whether you're a gamer, exhibitor, streamer, content creator, vendor or publisher. There was an overwhelming feeling of joy knowing that everyone there was there for the same reasons… our love of video games and meeting others who also love video games.
That joy was seen in the lines forming to play Monster Hunter, Dauntless and all of the other AAA and indie games there. That joy was seen on the faces of everyone smiling and laughing with their friends while shooting bugs, fighting for the high score or watching them defeat the boss. It was on the faces of all the PAX Enforcers, who arrived early, stayed late and did a fantastic job running the event. (Shout-out to our Enforcer Chris!) It is this joy that we strive for when creating games. It brings us joy to see the joy in others.
We will continue to go to events like this for as long as we can. All of the people we met at the convention including gamers, devs, streamers and publishers were awesome. These are the people that make the video game world go round and round. They are just passionate as we are about games. This… is community at it's core.
Community is very important to us here at Hitscan Games. Our fans are our lifeline and we will do everything in our power to be honest, forthcoming and excited to share everything we're working on. Our official Discord server has grown to over 80 members and we're not done yet. If you would like to get exclusive access to updates, screenshots, video and playable demos feel free to join here!
We had a ton of people show up to play the demo at PAX South, and the reviews were very positive! Players were able to jump into a level from the campaign or play our new mode Blitz, which features procedurally generated levels and fast-paced gameplay. Our goal is to refine these experiences, grow our community and finish strong when the game ships later this year in the fall.
Here's a special thanks to all the people who have helped us reach this point! Our family, friends, teachers, colleagues and fans are awesome! We're making Solar Purge for you!